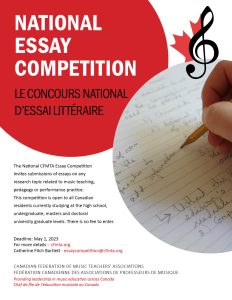 The Canadian Federation of Music Teachers' Associations invites your participation in the CFMTA/FCAPM Essay Competition.
The Canadian Federation of Music Teachers' Associations has been involved in music education in Canada since its founding in 1935. We promote musical excellence through workshops, master classes and musical events held by our member provinces/territories and our branches throughout Canada and collaborate with music organizations to further music education in Canada.
The CFMTA/FCAPM Essay Competition invites submissions of essays on any topic related to music teaching, pedagogy or performance practice. This competition is open to all Canadian residents currently studying at the high school, undergraduate, masters and doctoral university graduate levels. There is no fee to enter.
The Dr. Lorna Wanzel Prizes are awarded to the first-place recipients in both the Doctorate and Master's level categories. The prizes for the undergraduate and high school levels this year are provided by generous donors.
Deadline May 1, 2023