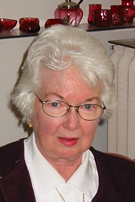 The CFMTA is pleased to offer the Hugheen Ferguson Distinguished Teacher Awards as a method of honouring deserving members of Registered Music Teachers' Associations across Canada. These awards were created in memory of the late Hugheen Ferguson, whose estate gifted the CFMTA with $5000.00. Hugheen, CFMTA president from 1997 - 1999, was an extraordinary teacher, administrator and supporter of the Association and the arts throughout her lifetime.
Individuals who have made significant contributions to the art of music and the profession of music teaching will be recognized through the CFMTA Hugheen Ferguson Distinguished Teacher Award for distinguished teaching and/or distinguished service.
The following criteria for recommending a teacher are offered as a guideline:
they have made a significant impact in their community
they have demonstrated exemplary service to the organization
they have had an exemplary teaching career.
Recipients of these awards will be recognized at the biennial CFMTA National Convention. Each would receive a complimentary ticket to the Gala and an attractive CFMTA - Hugheen Ferguson Award certificate. Also, new recipients would be prominently recognized in the Canada Music Week Edition of the Canadian Music Teacher.
Designating this award to a colleague is easy!
Simply send a donation at the discretion of the nominating province or territory along with the completed application form. This is an honour to be bestowed only by one's peers.
In the event that the recipient is unable to attend the national conference, the certificate will be sent to the distinguished teacher's provincial association, who would then be encouraged to recognize the recipient.
---
Past Recipients
For past recipents - check out our Archive site